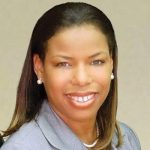 Tammeisha D. Smith was elected to a two-year term as vice president for finance of the New Jersey School Boards Association during the organization's Delegate Assembly on May 18, 2019.
Smith has been a member of the Knowlton Township Board of Education for eight years, including service as president for five years and vice president for one year.  She has been a member of the NJSBA Legislative and Finance Committees for two years, and earned the designations of Certified Board Member through the Association's Board Member Academy in 2018.
Smith also served as vice president of the Warren County School Boards Association and as a member of its Legislative Committee.
Smith currently holds the position of Chief Executive Officer, Dunbar Center, Inc., a medical and wellness facility in Newark.  She has a Bachelor of Science degree in Business Administration from Trinity College & University.
She has worked in the insurance industry and is a gubernatorial appointee to the board of the New Jersey Department of Health – Office of Minority and Multicultural Health.