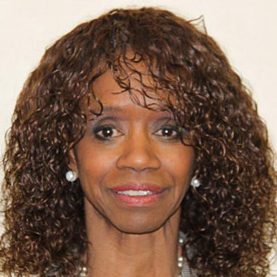 Stephanie Fisher is active in community, civic and religious organizations throughout Camden County within the State of New Jersey. Originally from the State of Connecticut where she received her B.S. in Economics from Southern Connecticut State college along with certifications from Temple University, Kean University, and Camden County College.
Currently residing in Voorhees, NJ, Stephanie was elected to the Eastern Camden County Regional School District Board of Education in 1986 where she served for 16 years. She held a number of positions while serving her tenure there i.e. Chairperson of the Superintendent Selection Committee, Liaison to the Athletic Department, Finance and Curriculum Chairperson, Delegate to NJSBA where she served on a number of committees and acquired her Board Certification. In addition, she served several terms as County School Board President.
Stephanie began her employment history with Camden County by serving as Deputy County Administrator. She then went on to hold the position of Chief of Staff for Freeholder Riletta L. Cream where she served for 14 years managing her office staff, writing speeches, attending events in her absence and speaking on her behalf.