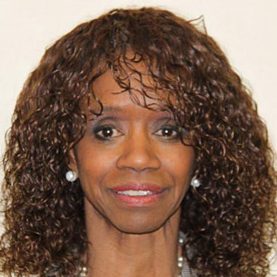 Stephanie Fisher is active in community, educational, civic and religious organizations throughout Camden County and the state of New Jersey.  She is the co-founder of the CBCC, Inc. of Voorhees, New Jersey, an organization of local minority families that concentrates on improving educational opportunities for all children who reside in Voorhees.  She also founded Kids & Co., which provides educational opportunities for minority children by enabling them to tour museums, libraries and places of interest throughout the United States.
She was elected to serve on the Eastern Camden County Regional School District Board of Education for 16 years, where she chaired the Superintendent Search, Finance, Policy, and Athletic committees, among others. Today, she participates on the school's District Advisory Committee, Educational Foundation, Inc. and Project Graduation.
Stephanie is currently on the board of directors for the Planned Parenthood of Northern, Central and Southern New Jersey where she is a member of the Executive Committee and the Board Governance Committee.  She previously held a position on the Planned Parenthood of Southern New Jersey and was part of the merger team when they became part of the PPNCSNJ.
Stephanie is a founder and past chairperson of the Educational Leadership Foundation of New Jersey.  Based in Trenton, NJ, ELFNJ was formed to advance the governance of New Jersey's public schools through training and research, and assists the New Jersey School Boards Association by securing resources to support school board professional development.
It should be noted that while a school board member, she was appointed as a delegate to both NJSBA and the National School Board Associations and is an NJSBA Certified School Board Member.
Stephanie is the chairperson of the Voorhees Cultural and Diversity Committee.  She was appointed by the Voorhees mayor and township committee.  Their mission is to foster human relations through education and encouragement of respect and understanding among the diverse population of Voorhees Township.
Additionally, Stephanie chairs the Campaign for Greater Schools based in Camden, N.J., which was organized to improve educational opportunities for students who reside in the city.
Stephanie is a lifetime member of the Lawnside Historical Society where she serves as a docent for the Peter Mott House UGRR Museum.  She is a member and lifetime member of the following:  local and state NAACP, VFW Auxiliary of Lawnside, Camden County Democratic Club, Federation of Democratic Women and the Lawnside Still Family Historical Committee, among other organizations.
Stephanie was appointed by then-Gov. Florio to the State Commission on Racism, Racial Violence and Religious Violence.  On December 22, 1993 after serving proudly as an officer on this commission, a report was published and presented to the governor and the New Jersey Legislature.
She has been the recipient of numerous awards and honorariums, including the 2006 Twin Award Tribute to Women and Industry (eliminating racism and empowering women in Camden County and vicinity); and Maria's Women United Award (MWU), named after Maria Barnaby Greenwald, who was a mayor and county official and opened doors for women throughout the state.  She received the Living Legends award from the Camden County Cultural and Heritage Commission in 2013 and was honored by the Voorhees mayor by having February 23, 2013 named in her honor as Stephanie Fisher Day in Voorhees.
Her biggest honor was when she was awarded the Martin Luther King Jr. Freedom Medal by the county elected officials for espousing the ideals of Dr. King.
A member of the Mt. Zion United Methodist Church located in Lawnside, Stephanie serves as chairperson of the Staff Parish Relations, Return To Church and Disaster Relief Ministries.  She is a member of the Finance and Security Ministries and has served as director of the Vacation Bible School and as a Sunday school teacher.
Ms. Fisher has been employed by Camden County for 25 years serving in a number of positions, including director of training and instruction, chief of staff to Camden County Freeholder Riletta L. Cream; director of grants for the Camden County Department of Corrections, state-certified Police Academy Instructor and Camden County deputy clerk.  She is currently chief of staff to the Camden County Police Chief and previously served on the transition team during the creation of this department.
Stephanie and her husband, Retired Army Colonel Alfred C. Fisher (who died in 2018) have three adult children, Stephen, Renee and Allyson, and seven grandchildren: Whitney, Alex, Jalen, Sydnie, Hunter, Colby and Hadley.